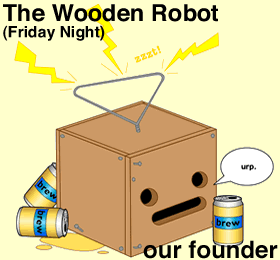 We, the awesomely virile men of The Wooden Robot, would like to welcome you to our "Web Site." Thanks old economy, we'll take it from here!
Founded in 2005, The Wooden Robot is a comedy troupe based in San Francisico that strives to make people laugh by doing things and presenting these things to the aforementioned people.
At current, there are five of us, though our friends Cameron, Charlie, Chantel, Dawson, Joe, Marie and Rico have all helped at least once and maybe more. And Noel unwittingly wrote a piece about phones back in 2003.
The Wooden Robot is:
Charles, Lead Telephone Concealment Tech
Liam, Long-distance Humor Engineer
Ian, Ambassador to hand-crafted Bourbon
Nathan, Marriage Maintenance Tech
Stephen, Ambiguously Occidental
If you would like to contact us, either for business or pleasure, you will find the necessary information here: Contact
Our philosophy at The Wooden Robot is that humor is the best medicine. Better even than Vioxx, soft tab Cialis, genuine Italian Rolex watches, and non-Turkish hashish.
So take a look around our site. Breathe it all in. In fact, if possible, print out any written pieces and smoke them. We believe you will find them to be smooth, flavorful, and low on tar.